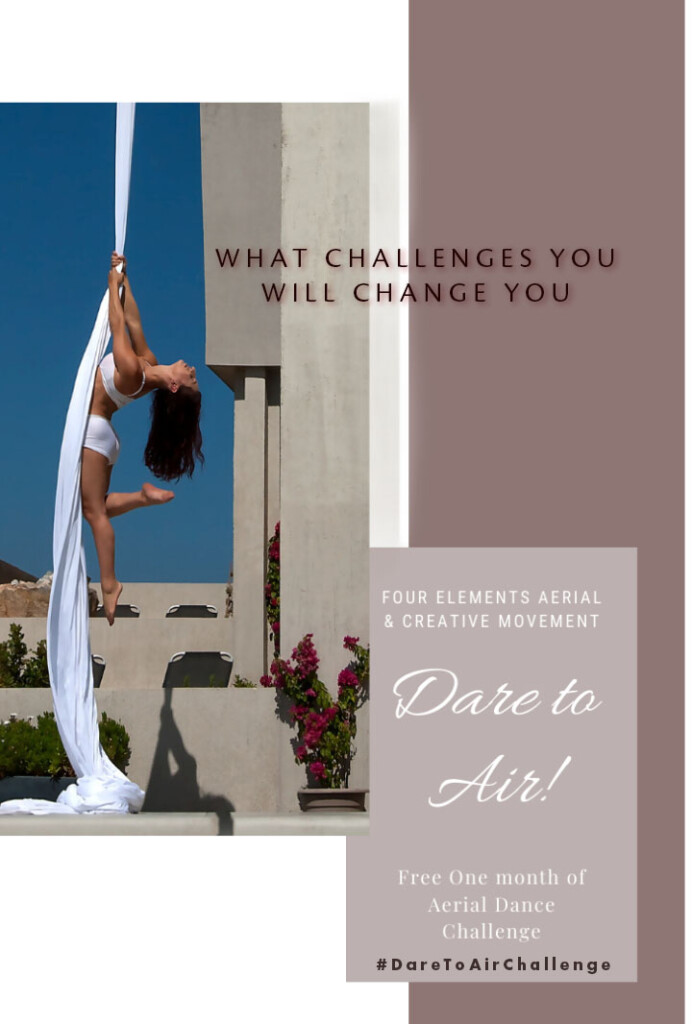 Congratulations for saying YES to this challenge!
We are SO excited to see that you commit to your art – ready to dive in and bear your soul!
We are thrilled to share the power of aerial dance with you as you grow in confidence and aerial practice over the next four weeks. A big part of this experience is community, let's get to know each other.
Can't wait to see all the beauty we will create!
Everything you need to join in the fun:
1. Join the Dare to Air Facebook group and introduce yourself.
This is where we post and interact, so let's get started – introduce yourself with a photo or video of yourself in motion!

Tell us a little about you, where you live? what are your favorite moves, wish-list moves and aerial goals? what is your relationship with aerial dance? what would you like it to be? have you been training lately or are you getting back to it?

2. Plan your creative journey.
Reserve time in your calendar to be in the air as you would a fitness class, meeting or important engagement. This time is an investment in yourself and your aerial journey. None of this happens unless you show up!

Gift yourself good sleep, hydration and nutrition to train at your best.

Watch favorite aerial videos of yourself and inspiring aerialists to get in the mindset. Just enjoy, don't be critical of yourself!
Write down a few of your favorite and feel good moves that you want to incorporate into the improv section of the challenge.
3. Follow the #DaretoAirChallenge hashtag to connect with others.
Don't miss your weekly choreography prompts, or emails with important updates and the count down for the challenge to begin.
Add "info@fourelementsaustin.com" to your contacts so we make it to your inbox. (If using Gmail, check the Updates and Promotions folders and drag our emails to your Primary inbox so you don't miss any challenge emails from Four Elements.)
4. Well, what are you waiting for? Go check your inbox for your Week One Challenge!!

Email us with any questions or concerns. We're here for you!
---
What to expect:
Growth in your aerial practice!
Feedback on your choreography process in the Facebook group.
Feedback on your submissions offered in the Facebook group.
A community of like-minded aerialists.
Tips and feedback on athletic performance, imagery, visualization and conversation about prep and openness to be seen.
Be playful, enjoy your "mistakes"!
Supporting connections, accountability buddies and friends that offer inspiration.
A safe, equitable space where self-love and kindness to others are upheld first and foremost.
We look forward to dancing with you!!!